We are pleased to announce that the 6th ExCELLS Retreat for Young Researchers will be held on October 19th (Thu), 2023.
OUTLINES
Date and time
October 19th, 2023, 9:30 – 17:00
Venue
Okazaki Conference Center (OCC)
Program
Click here for more information→ The 6th ExCELLS Retreat for Young Researchers Program
Participant
Graduate students and Young researchers in ExCELLS, IMS, NIPS, NIBB and other research institutes
Language
Japanese (Invited lecture), Japanese and English (Group work), English (Poster session)
Invited speaker
Teruhiro Okuyama, Ph.D.
 (The Univ. of Tokyo, Institute for Quantitative Biosciences) Associate Professor/PI
Soichiro Kawagoe, Ph.D.
 (Tokushima Univ., Institute of Advanced Medical Sciences) Assistant Professor
Shigetaka Nishiguchi, Ph.D.
 (Osaka Univ., Graduate School of Engineering) Specially Designated Assistant Professor
Yusuke Hara, Ph.D.
 (Carl Zeiss Co., Ltd.)
We'll be having the on-site Retreat at the OCC for the first time in three years.
We plan to have "Invited lecture", "Group work" and "Poster session".
In the invited lecture, speakers with various career backgrounds will talk about their research and careers.
In Group work, participants will discuss a given subject, which promotes deeper interaction.
In the Poster session, all participants will give the presentation to know each other's research.
Last few years, we didn't have much of a chance to participate in on-site conferences because of the COVID-19 pandemic.
We hope this retreat will be a great opportunity for the interaction among young researchers and students.
Registration Form
https://forms.gle/e544PY8UFN5ZSJEs5
Deadline for registration: Oct. 2nd (Registration is closed)
* If you would like to attend the retreat, please register for participation.
We look forward to having you join us.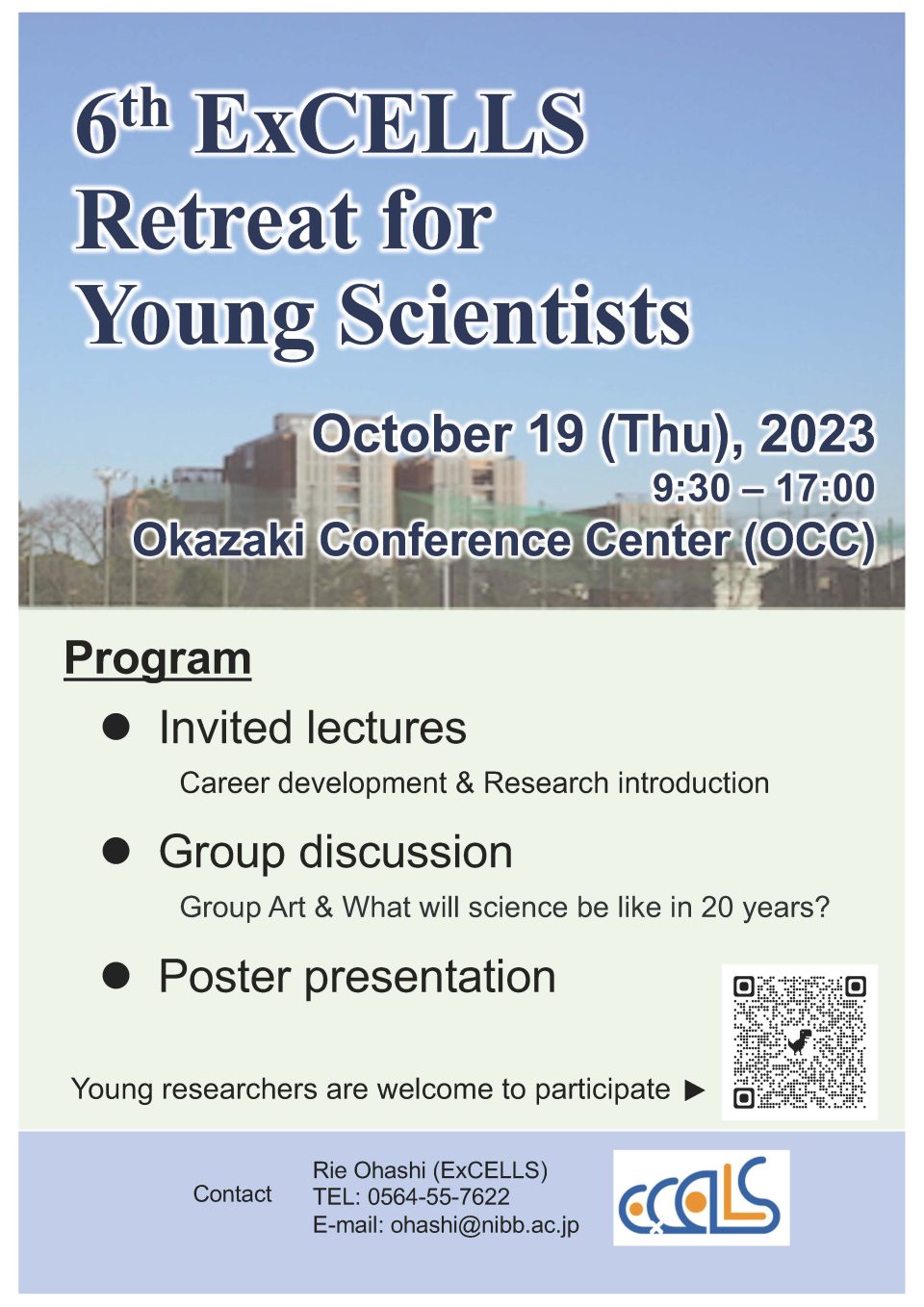 Contact: Rie Ohashi, ohashi_at_nibb.ac.jp (Please replace the "_at_" with @)